At North Coast Eye Care, we are pleased to offer a wide range of optometry services for our community! Our experienced optometrists can provide you with thorough eye evaluations, determine if you need corrective lenses and your exact prescription strength, fit you with the appropriate specialty eyewear, and help you pick out the most flattering pair of glasses for your face shape and skin tone.
Our new patient appointments always begin with a comprehensive eye exam. If you are unsure of your family's eye health history, it's helpful to research beforehand, so we can better evaluate your own eye health. If you have never had a comprehensive exam, don't worry! All the tests and exercises are simple and painless.
Comprehensive eye exams may include:
Testing visual acuity or refractive error
Pupil evaluation with or without dilation
Examination of peripheral visual field
Color vision testing
Analysis of the visual systems
Examination of the external parts of the eye
Intraocular pressure measurement
Examination of the health of the entire eye
Our doctors can diagnose and treat eye diseases and identify general eye health problems including diabetes, anemia, high blood pressure, and others. We can also test for and fit specialty eyewear for sports, occupations, other activities and hobbies, and safety glasses.
We can answer your questions about optometry services, our eye care practice, eye health products, and more.
Our Optometric Services:
Computer assisted eye exams
Contact lens fittings of all types
Frame styling to compliment your lifestyle
Outside prescriptions welcome
Co-management for laser and cataract surgeries
Diabetic eye care
Glaucoma treatment and management
Macular degeneration screenings
Treatment of infection, pink eye, allergies, injuries, etc…
Facilities and Equipment
We have the latest technology to assist in taking care of your eyes.
In-Office Laboratory
Large selection of frames
Most contact lenses in-stock
Visual Field Computer
OCT (Ocular Coherence Tomographer)
Optos (ultra-widefield retinal imaging)
Glaucoma Services
OCT scanThe Zeiss OCT allows for early detection of glaucoma damage to the nerve fiber layer or optic nerve of the eye. It is the goal of this diagnostic test to discriminate among patients with normal intraocular pressures (IOP) who have glaucoma, patients with elevated IOP who have glaucoma and patients with elevated IOP who do not have glaucoma. Retinal tomography is also a valuable tool for the evaluation and treatment of patients with retinal disease, especially certain macular abnormalities. It details the microscopic anatomy of the retina and the vitro-retinal surface. It is useful to measure the effectiveness of therapy and in determining need for ongoing therapy, or the safety of cessation of that therapy.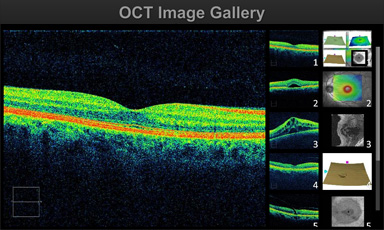 EyeGlass Guide
EyeGlass Guide will help you better understand the many lens choices available to you. This on-line tool will guide you through a series of questions about you, your lifestyle and your specific eyewear needs. At the end, you'll receive eyewear suggestions specifically tailored to meet your needs. EyeGlass Guide brought to you by Transitions®
Contact Us
We have three locations to better serve you. Find a location that is convenient to you and schedule your appointment today.
Our Locations